Bathroom Remodeling? The Best Surfaces For Your Budget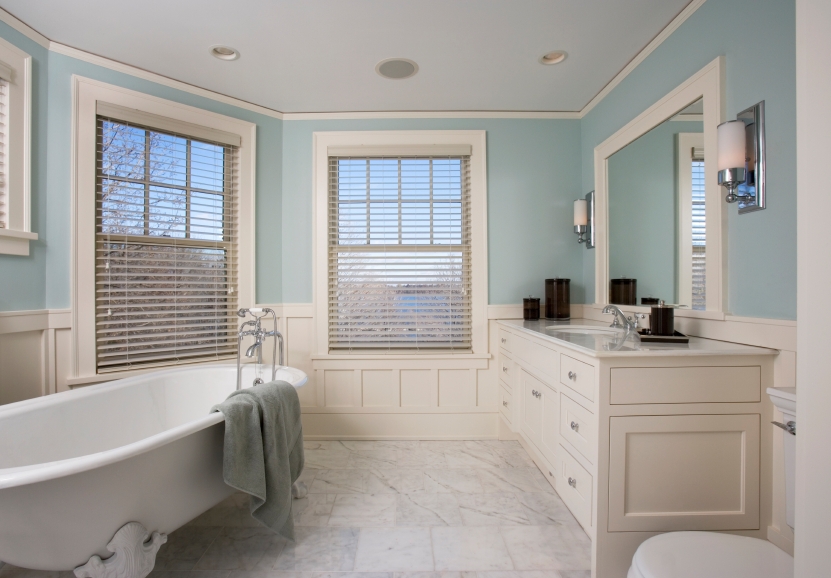 When planning a bathroom-remodeling project, it is easy to dream of turning your throne room into a royal chamber, fit for a five-star hotel.  However, we are always faced with the issue of cost.  Remodeling on a budget can sometimes take the glamour out of any dream bathroom, but there are ways to make it pop with style, while saving money.
One of the best ways to save the budget is in your bathroom tile selection.  Sometimes, it can be the aesthetically pleasing little aspects that can turn a grimy looking bathroom into a masterpiece.  The key is to make sure that you don't compromise on quality for style.
Tile Quality
The price range can be quite large with tiles running from $2 per square foot to $40.  However, the quality of tiles in your bathroom remodeling is very important.  This is the case, not only because low-quality tiles look cheap, but also because low-quality tiles can cost more money in the end.
Using matte-finish (no gloss) tiles can save you a bundle of money up front, however, they come with a fair share of problems.  The first is that they tend to be much softer and will break down over time.  In addition, matte tiles will stain and absorb moisture.  They are very difficult to clean, and in many cases, they will harbor mold.  In the presence of moisture, it is important to buy tile materials that repel water, as this is absolutely crucial when selecting shower tiles.  Keeping this in mind will ensure that you won't have to refinish your bathroom any time soon, which means you can keep your bathroom looking better for longer.
One of the best ways to save is by buying good bathroom tiles, while skipping out on the fashionable aspect.  Where you will pay the most money is by selecting tiles that are both high quality and high fashion.
Simply buy bland, durable tiles now; we can add the stylish look in the next step.
A Stylish Bathroom On a Budget
There are many ways to make a bathroom look great without breaking the bank.  For instance, you don't always have to use the same style tiles for all surfaces.  You can change little things, like adding mosaic borders, and even painting designs yourself.  If you are not artistically inclined, stencils make for quick work.
Also, you can offset certain costs by spending a little more on one part and saving a little more on something else.  For instance, you can save money on floor tiles, while spending a little more money on wall or shower tiles.  If you split the square footage of your bathroom remodeling project, using the expensive tiles on one part and not on another, then that might make your dream bathroom a feasible possibility.
Last, little finishing touches, such as painting the cabinetry, buying new curtains and bathroom mats, and even letting more natural light stream in, can have a positive effect.  Thinking outside the box can be a big help for a budget bathroom-remodeling project.
Bathroom Remodeling in Atlanta Georgia is our specialty. Call Frank  (404) 941-8986 to schedule free consultation.
We service All of Metro Atlanta Including: Dunwoody, Alpharetta, Lawrenceville, Roswell,Duluth,Gwinnett, Buckhead,Fulton and More.