The New Class of Glass
New trends in Southern kitchen tile have cleared the way for uniqueness and personalization in an modern kitchen or bathroom. One of the newest contenders which has been popping up in home design projects all over Georgia is glass. Glass tile comes a variety of styles and colors that will add a decorative beauty to any room. This vibrant material, if installed tastefully, will add a depth to and enhance the light of any contemporary living space.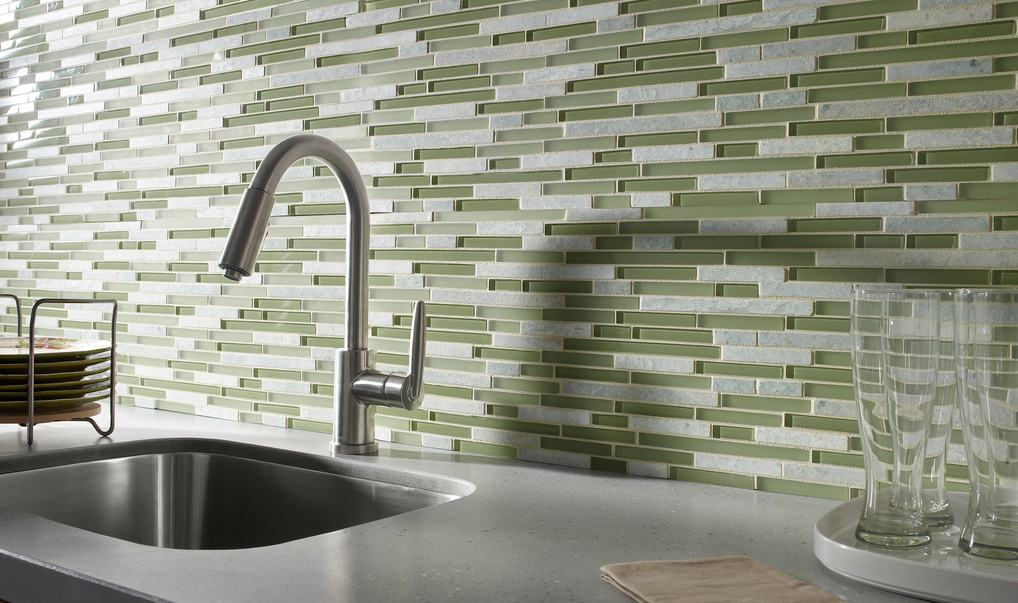 Glass is undoubtedly one of the more versatile of all tiles – it comes in a number of borders, patterns, styles, colors, and shapes, and it can be customized to suit any space whether indoor or outdoor. Not only that, it's sturdy and resistant, making it suitable to both dry and wet locations. Although glass is not typically associated with being long-lasting, in that regard it is certainly comparable to ceramic in sense of durability and ease of installation.
Because glass is a high-quality product that may stretch some wallets, many people aren't looking to cover an entire room with glass tile – but instead many choose to go with the more affordable option by using it strategically as an accent piece. Single panels of elegantly patterned glass tile behind sinks or as back splashes can add a bright and lovely touch to a boring space, livening it up with a touch of color.
Uses for Glass
1)  Enhancing a Room's Natural Light
Using light colored or translucent glass tiling can be used to effectively enhance a room's natural light. If done well, glass will catch the light in a subtle, beautiful way.
2)  Kitchen Backsplash
Glass tile is one of the best ways to liven up a boring backsplash. Not only is glass resistant and durable – sure to retain its luster long after it is installed – but a touch of color will add character to a typically dull section of any kitchen.
3)  Entryways and Foyers
If you're looking for a new way to wow your guests, then adding tile to your entryway or foyer is the thing to do. A splash of colorful glass tile will give your foyer a one of a kind style that will make an impact.
4)  Shower Enclosures
Another popular use for glass is to create customized shower enclosures. Glass is a perfect combination of strength and beauty, and a design made with the material will be like adding a work of art to your bathroom. You can also get creative by installing a mosaic in your shower made up of different colored tiles.
Go for Color
Glass tile has an ethereal shimmery effect that is best created through the use of color. Choosing glass tile in bold, complementary colors that offset the other palettes in your home will bring depth and luminescence to any space.
Install with Epoxy 
Surprisingly, there isn't much difference between installing glass tile and installing ceramic. This is especially true if you're only looking to cover a small area. Also, when choosing a grout, go for epoxy, as it is more compatible with the glass, and prevents the growth of mildew.
No matter where you choose to install glass tile in your home, it will undoubtedly add a brilliant shine, depth, and vibrancy to that space – cause the room to glow with subtle beauty.