Do's and Don'ts of Bathroom Remodeling
There may come a day when you find yourself brushing your teeth in your bathroom, and your eyes start to wander around the room.  A sudden realization creeps to the surface: you may need to think about bathroom remodeling.  Those old, outdated tiles never seem to get clean, your sink is in a terrible position in relation to the toilet, and that antacid pastel pink color on the walls is certainly not flattering.  Perhaps, you've already had this realization.  Perhaps, it's time to begin a new project.
However, there are a few 'do's and don'ts' and factors to consider before you begin the task.  For instance, should you do this yourself?  If not, then which local Atlanta contractor should you hire for the job?  What types of tile flooring should you use?  What is this going to cost?  This is going to take a sizable amount of planning before starting the project.
First Thing's First
To begin the planning process, you may want to consider if you have the skill and time necessary to do the bathroom-remodeling project yourself.  What does your project entail?  If you are simply ripping out the old, and laying new tile, then even the most novice handyman should have very little problem completing the project.  However, if you are planning on rearranging the components of your bathroom, such as moving the position of a toilet or sink, then you will need to have skills that involve plumbing, electrical work, and even framing.  In these cases, it is sometimes more time and cost efficient to hire an Atlanta contractor for the job.
Especially if you only have one full bathroom, time becomes a rather large factor.  If you do the bathroom remodeling yourself, then you won't want to take more than 72 hours, as the project is likely to make your bathroom unusable.  For this reason, many people simply decide to hire a contractor, simply because he or she would be able to finish the project professionally and quickly.  The key to this part of the planning process is logistics: do have a healthy consideration for the scope of the project, and don't bite off more than you can chew.
Your Materials
Whether you hire a contractor or not, it is important to know what materials you should use.  This is especially crucial if you are changing the tiles in your bathroom, as your surfaces will take the most abuse over time.
One common pitfall in bathroom remodeling projects is the choice to use cheaper tiles or surface materials.  Using low-quality tiles tends to mean that they are not durable, and will not hold up in a high-moisture environment.  Bathroom tile, especially shower tile, needs to be impervious to moisture.  First, this will prevent calcium buildup, and will be much easier to clean.  Second, tiles that absorb moisture will harbor mold, which can be dangerous if left unchecked.  Be sure to go with glossed, single-hardened tiles.  Of course, do thoroughly consider your materials, and don't simply opt for a cheaper alternative to save money.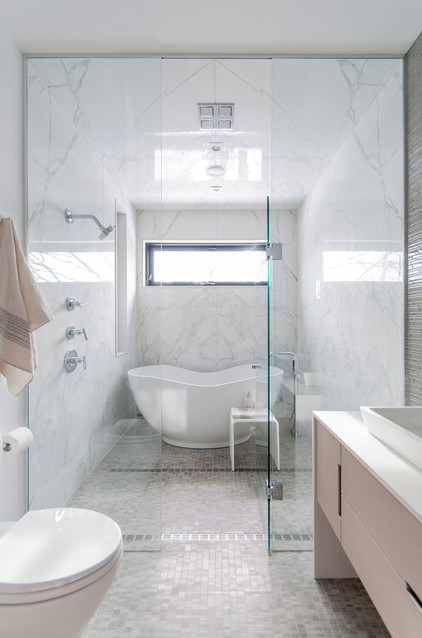 The Cost
It is always important to have an accurate idea of what the project will cost before you begin.  This way, you can know that finishing the project is financially feasible, and you can know what you can and cannot afford.  For most full bathroom remodeling jobs, you are probably going to need to set aside $5,000-$25,000, depending on the scope.
You do want to make sure to have a budget, and you most certainly don't want to low-ball the job.
Bathroom Remodeling in Atlanta Georgia is our specialty. Call Arthur at (404) 941-8986 to schedule free consultation.
We service All of Metro Atlanta Including: Dunwoody, Alpharetta, Lawrenceville, Roswell,Duluth,Gwinnett, Buckhead,Fulton and More.