Reviewed by
tilemaster
- Rating:
Spicing Up Your Family Room With Travertine Tile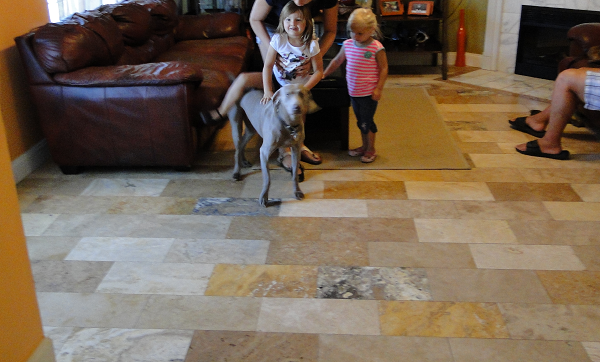 Travertine's most obvious allure is the fact that it is a surface material that has been used for thousands of years.  In fact, the Romans used travertine because it was a naturally occurring geological material in their immediate region.  In addition, it was also an extremely durable building material for that era.
Nowadays, you can usually find travertine in spaces of occupants that are interested in a sophisticated, antique look.  Its lines and impurities are beautiful, and when travertine is polished, the colors become even more vibrant and the stone's surface becomes extremely glossy.  The reason for these gorgeous imperfections is because travertine naturally occurs from geological sediments.  Usually travertine can be found in caves, around hot springs, or anywhere sediments have been calcified over time.  This is why travertine's surface, if left unpolished, can be quite tactile, irregular, and porous.
It is often this irregular surface of travertine that creates a look of antiquity.  Of course, because travertine has been a building material for thousands of years, it offers timeless beauty for the home.  When sealed and polished, travertine can last multiple lifetimes, potentially displaying the stone's vibrant variance in colors for hundreds of years to come.
The Stone For the Sophisticated
Travertine is iconic for its coloration.  Because of its earthy, natural tones, many people love using it for their floors.  Though, in many cases, you would usually not find the stone polished, as it has the potential to become very slippery when wet. Travertine will also remain cool in summer, and will help retain warmth in winter.
Ultimately, it is a favorite among folks who wish to transform their home into a sophisticated work of art.  Because of the nature of the stone's timelessness, it has a special lure to those who want more than the conventional.
Tips on Keeping Travertine Beautiful
One of the most common pitfalls with travertine surfaces is the fact that it can be easily corroded if it comes into contact with any kind of acid.  Because travertine's most prevalent property is calcium, acids will react with it very quickly, breaking down the surface very quickly.
Yet, ensuring that your travertine floors stay beautiful is extremely easy and simple: just use natural cleaners and warm water.  This way, you are only getting rid of the stain and not breaking down the stone.  In addition, travertine tends to clean up rather easily, the warmer the water you use.
One of travertine's strengths is the fact that it has a porous, irregular surface.  So, if you were to see scuffing, scratching, or any other type of wear from impact or grinding, simply use sandpaper to buff it out.  It's that simple.
The Cost of Installation
Travertine tile is moderately priced, roughly in the 'middle of the road' in terms of how it compares to other stones.  The stone itself is perhaps one of the best balances between efficiency and beauty, which is one reason why so many love using travertine for many of the surfaces in their homes.
Buying travertine for your surfaces is like changing your space into a work of art, using ancient accents.  In addition, it is rather simple and easy to maintain if you understand how to keep the stone looking beautiful.  If travertine was good enough for the Romans, then it should be good enough for you.