Rock Your Kitchen with Granite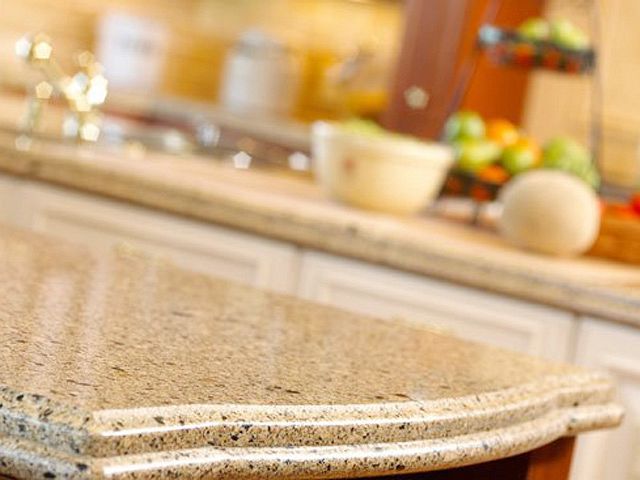 Granite is the perfect juxtaposition of beauty and strength, and a desirable natural material for any modern kitchen. It is stain-resistant, easy to maintain, and extremely versatile. They come in a wide variety of colors, styles, and qualities – so there's likely to be something that's appropriate for you, for your kitchen, and for your budget.
Because of its unique elegance, granite possesses a reputation for being timeless. It's important to note, however, that not all granites are made equal. A professional Atlanta tile or granite installer will be able to advise you on quality, and most importantly, do the installation for you!
Styles of Granite
Granite comes in a large number of colors and varieties, providing you with the versatility you need to create the customized kitchen of your dreams. It comes in hundreds of shades of brown, white, blue, black, red and any combination of these. If you want to see the way certain colors match cabinetry, you might want to check out a granite showroom near you. When you do, make sure you bring back samples to see how certain styles of granite match up with your kitchen cabinets.
Some Tips for Finding and Maintaining Quality Granite
Resin is a thick binding adhesive applied to the stone to keep it from cracking and separating in transit – but it also goes a long way towards protecting it from stains. Although you will still have to seal it, it will require less overall sealing, and will save you a lot of cleaning time.
• Take Home Samples, Do a Water Test
If you go to a showroom and they offer you samples of granite, take those samples and bring them home. Not only will you get the chance to see how the color matches your cabinets, but you can do a DIY test of the quality. Drip some water on the samples, wait fifteen minutes, and then wipe the moisture away. If there is any reside left on the sample, then the granite is porous and will be susceptible to damage.
*  Sealing
Granite, being stone, is naturally porous – and if you want to keep it looking its best for as long as possible, you'll need to seal it. You should initially have the granite installer professionally seal the granite, and then periodically you can do maintenance sealing yourself.
* Just because granite is durable, it can still be damaged
Granite is an incredibly sturdy material, and so you can take less precautions with it as you would other countertops. However, if you want to keep your countertops in the best condition, there are few things you'll want to avoid doing. Specifically, never use your granite as a cutting board, and avoid cleaning it with harsh chemicals.
Choosing to remodel you kitchen with granite is one of the best choices you can make. It's affordable, enduring, and will make your kitchen beautiful.
Alternative Options
If you're looking to transform your kitchen with granite, but either don't like the look or the price tag of granite slab countertops, there are a couple of other options which may suit your tastes and budget.
Granite Overlay
Granite Overlay is one of the most inexpensive, hassle-free ways to have granite countertops. The granite installer will measure your kitchen counter, cut an overlay at the shop (no mess in your house!), and fit the piece over your existing counters. It operates as a sort of mantle – and although it's certainly not the real thing, it will give the appearance that it is, for much less than the ticket price.
Granite Tiles
A second option is to install granite tiles. Not only are they more cost-effective, but they're easier to install. Plus, if you install the granite tiles close enough together, you can achieve a similar effect to a slab of granite, at a fraction of the cost.